hmmmmph
i have too much work to do.
i'd rather be baking.
or eating something baked.
hahaha!
but alas, i have piles and piles of work to do before i can touch my lovely spatula and baking pans.
i will, however, bake for the upcoming retreat for KCF tho!!
yay!! so happy.
i'm not sure if should just bake a whole buncha cookies, or bake cupcakes too.
i'll see how much time i have...
for now i'm thinking of baking:
-beth's spicy oatmeal raisin cookies (which got like 1500 five star reviews on allrecipes.com)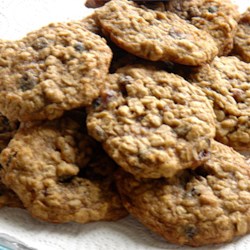 -mudslide chocolate cookies (from the culinary institute of america baking book)
-black and white icebox cookies (williams-sonona's recipe)
mmmmmmmm cookies!!
i wonder if i'll actually be able to bake all three kinds tho.
oh! if i only had time!!